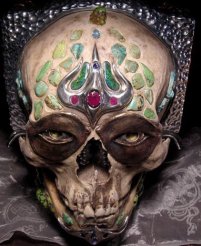 The Paparazzi have a new, fearsome weapon… the Tibetan Death Camera.
As a Superhero you can't help but be photographed, and only 99% of the time do you wish to punch the cameraman in the face. It's almost a twitch, a nervous reaction, as if you had an allergy, but instead of sneezing and itchy ears your hands formed into a fist and you just popped one off. As a side note, whenever I punch a paparazzo, my eyes close. Just like when I'm sneezing.
This pinhole camera was fashioned from the skull of a monk, and named Yama, after a Tibetan death god. Are you scared yet? You should be. Yama is made from several sets of jewels and other exotica, including titanium, copper, brass, bronze steel, silver, gold, mercury, four sapphires, three rubies, Asian and American turquoise, blood, and nine opals. Blood isn't that exotic. Except when it's part of a camera.
What makes this different from other cameras? Aside from the blood and skull: it's been blessed by a Lama. Not the Lama. Not a llama, but a Lama. Who knew that there was more than one Lama, and one of them had the job to bless cameras made from skulls? I guess there's no question that images from this thing will steal your soul. And sell it on the black market.