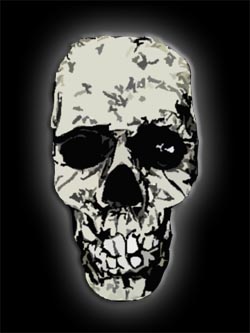 There is a new unspeakable evil out there, and if I weren't all set with a nemesis I'd consider taking up this group. I mean, I'm not exactly all set with a nemesis. I'm mostly seeing one, maybe two nemeses. It's ComplicatedTM. Mostly I don't want to lead these villains on. Because that's not what I do. That's what villains do.
The unspeakable evil of which I speak (confound this occasionally awkward English language) is not the ISS, pictured in full flesh-lacking head attire at left, although they used this implement of noisome filth to impugn my character. The loathsome, fearful beast of which I speak comes served up especially in 140 character increments, served over warm hell juice. It is called Twitter.
You might think that hardworking, occasionally employed Superheroes don't have the time for Twitter. To Tweet. To be Twits. But an oft-employed Superhero is exactly the kind who might be found on Twitter, because let's face it: I am a famous entity and if I write a 140 character screed to alert you that someone installed the office toilet paper in the 'under', as opposed to the 'over' position, you will care. You will be grateful. You will reTweet it as if you were providing some sort of community service. You will essentially be the internet barnacle that cleans my salty bottom because that is how this insane symbiotic relationship works.
You can follow me, or at least my ghostwriter, @gxrobillard, who is lonely and desperate enough that for any amount of attention he will Show You His Twits.